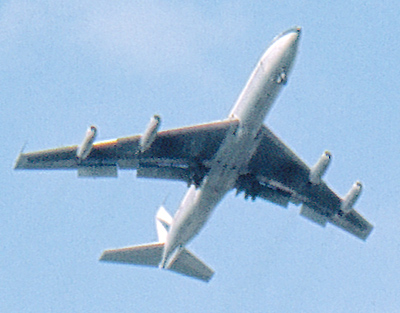 Revoyons le 707 ci-dessus.
Le 707 a été fabriqué en quelques variantes. Le 720 et le 720B (voir la photo en haut de page) était long de 136 pieds 2 pouces (720) ou 136' 10 1/2". (720B). Le 720 était équipé d'une mini dérive sous la queue de l'appareil. Le 707 en possédait une sur certains modèles (les 707-420). Le fuselage du 707 était un peu plus long que celui du 720 (144' 6". pour les 707-120 et 220 et 152' 11" pour les 707-320 et 420).
S'il n'a pu être allongé autant que le DC-8, le 707 a tout même donné lieu à toute une série de dérivés dont plusieurs sont fort connus.
La plus célèbre est certainement Air Force One qui transporta plusieurs présidents de États-Unis et leur suite. Ces 707 modifiés ont par la suite été remplacés par une modification du 747.
L'avion illustré ci-haut à droite est aussi une modification connue du 707 : le KC-135 Stratotanker.
Avion citerne qui permet le ravitaillement d'autres avions en plein vol, le modèle illustré ici est un KC-135R. Celui-ci a été remotorisé et est équipé de réacteurs à double flux. Ceux-ci se reconnaissent aisément à la grosseur des nacelles (un peu comme ce fut le cas des 737 et dont les moteurs et leurs nacelles permettent de distinguer les 737-200 des 737-300 et plus).
Dans vos lectures, prenez garde à la désignation Boeing 717. Les KC-135 furent désignés 717 au début car cet avion n'est pas une adaptation directe du 707, c'est un avion légèrement plus petit au fuselage plus étroit. Cette appellation ne fut pas retenue par la suite et actuellement, un avion civil porte le nom de Boeing 717 (une version du MD-80, suite à l'acquisition de McDonnell Douglas par Boeing).
Let's look again at the 707 in the above left picture.
The 707 had a few variants. The 720 and 720B (see picture upper page) was 136 ft. 2 in. long. (720) ou 136 ft. 10 1/2 in. (720B). The 720 was equipped with a "strike fin" under the fuselage tail. The 707 alos had one on certain models (the 707-420). The 707 fuselage was a bit longeré then that of the 720 (144 ft. 6 in. for the 707-120 and 220, 152 ft. 11 in. for the 707-320 and 420).
The 707 could not be stretched like the Super DC-8 but none the less gave numerous version amongst which some are well known.
The most illustrious is certainly Air Force One. These planes were used to fly United States presidents and their staff. These modified 707 have since been replaced by modified 747.
The plan shown above is alsoi a weel konw 707 derivative : the KC-135 Stratotanker.
Air-to-air refuelling tanker, the model shown here is a KC-135R, remotorized with new turbofans. These can easely be recognized by their large engine nacelles (as it is the case with 737 where the nacelles can facilitate recognition of the 737-200 from the 737-300 plus).
Reading on the topic, be aware that the 717 designation can be confusingBoeing 717. the KC-135 were designated 717 at firts since this plane is not a direct adaptation of the 707, it's a slightly smaller plane with a narrower fuselage. This designation was not retained as the plane became known as the KC-135. Their is actually an airliner flying under the Boeing 717 designation (a version of the MD-80, since the merger of McDonnell Douglas and Boeing).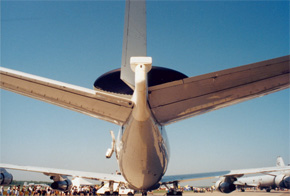 Le Boeing E-3 Sentry est en fait un Boeing 707-320 équipé d'équipement électroniques sophistiqués pour la surveillance à distance et la détection d'avions en vol au-dessus de divers territoires.
Bien sûr, la caractéristique la plus spectaculaire est cette soucoupe rotative (rotodôme) montée sur deux mats.
Le E-3 Sentry est aussi bien connu sous le nom de AWACS (Airborne Warning And Control System - système de contrôle et d'alerte aéroporté).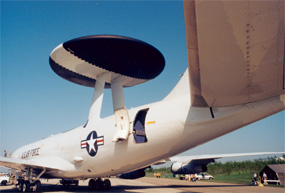 In fact, the Boeing E-3 Sentry is a Boeing 707-320 equipped with sophisticated electronic equipment for long distance surveillance and detection of planes flying over different countries.
Of course the most spectacular feature of this plane is the rotating radar saucer (rotodome) mounted on two large masts.
The E-3 Sentry is also well known under the designation of AWACS (Airborne Warning And Control System).