Airplane Pictures from the 60's & 70's
| | | | |
| --- | --- | --- | --- |
| This picture (see also enlarged version) from the early '60S was taken by my brother François. Afew classic airliners can be seen as they came to YUL at the time. Two Viscount : one from Transcanada Air Lines the other from Northeast Airlines. The plane on the right from SAS is a DC-7 (another four propeller engine plane). | | | |
| | | | |
| | | | |
| --- | --- | --- | --- |
| | Take a good look at this picture (or se the enlarged version). You can see all the aircraft types Air Canada had in its fleet at on time. Vickers Viscount, McDonnell Douglas DC-9, Vickers Vanguard (in the backof the row) and a McDonnell Douglas DC-8 on a taxiway. | | |
| | | | |
A Vickers Viscount and a McDonnell Douglas DC-8 in April 1966.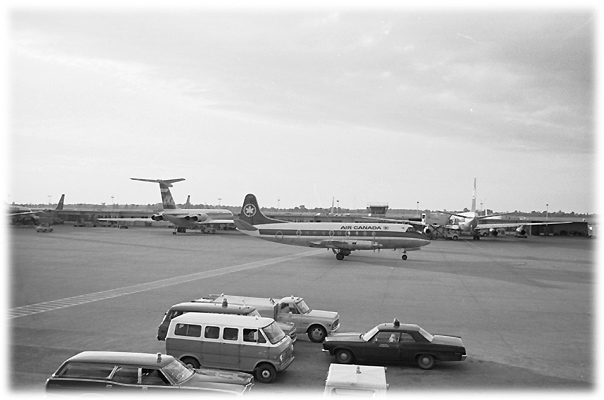 Golden days of the aeroquai.

Big jet liners could be observed from the exterior observation deck. We could also see a great variety of planes.
The Vickers Viscount was flown by Air Canada from 1955 to 1974.

With four Rolls-Royce - Dart - 506 C Turboprop, it could carry 48 passengers at a cruise speed of 507 km p h (315 mph) with a range of 2 414 kilometers (1 500 statute miles).

Source : http://www.aircanada.ca/about-us/our-fleet/au303v.html


In the early '70s, you could see a Viscount bearing the Department of transport (DOT) colors (above) and others (right). Probably exAir Canada planes.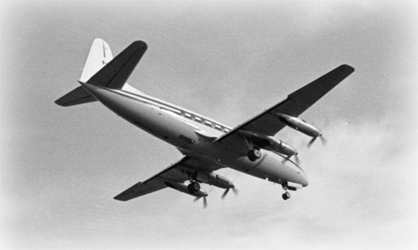 Viscount are now mostly seen in museums.

This one is stored in St-Hubert (CYHU) waiting to be put on display in the Quebec Air and Space Museum
Text : Jean-Pierre Bonin © 2002-2003

Web site conception and production , text, pictures and illustrations : Jean-Pierre Bonin © 1999-2003
CF-THD Viscount picture : François Bonin © 2003

Send suggestions and comments to : djipibi@hotmail.com
Web site created on August 8th 1999
Last update of this page December 26th 2003

If you use my pictures or illustrations, please send me your web page address by e-mail.
If you use these images for a school research, then don't forget to mention the source of your document (and I wish you a good grade!)